If you work in animal health marketing, then the Veterinary Marketing Awards will undoubtedly be a highlight of your year. They are certainly a highlight of ours!
We enter with the hope of winning or at least the hope of a 'highly commended'. We're proud of our work and like to show off, and the VMA Awards provide us with the ideal showcase. Not just for us, there are many creative agencies involved in animal health marketing – and the annual VMA Awards ceremony gives us a chance to mix with our peers, see their work and celebrate the innovation and creativity within the animal health sector.
As Chair of the VMA Awards judging panel, Mike Walker, said, "the quality of submissions this year was excellent and the companies, and their agencies, should be proud of their work."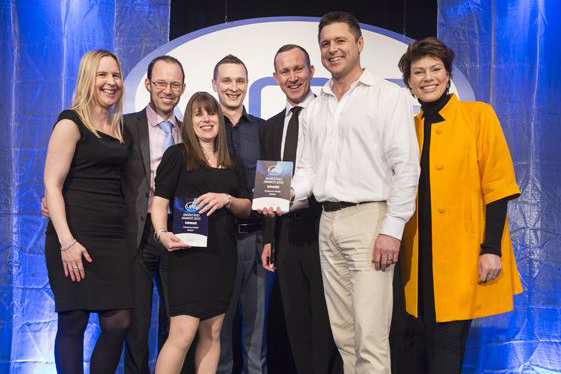 Above: Accepting the Consumer Media Award, the second of three wins in total.
But awards are the tip of the iceberg. Sure it's good to be recognized and rewarded - we scooped three 'wins' and are undeniably chuffed! The standard throughout all categories was extremely high and it's a privilege to be a part of such a vibrant sector. We don't create campaigns or media to win awards though, we create in order to drive recognition and ROI for our clients.
To some the subject of marketing to veterinary professionals may seem a bit dry, a bit short of potential on the creative front? But those some clearly don't know the animal health sector! Sure there are some challenges – for example parasiticides aren't the most glamorous of subjects, the regulatory restrictions and technical information required can test the most inventive of designers. Yet the standard represented at last Friday's Awards showed just how creative the industry can be – while maintaining strong, impactful and relevant messaging.
At MBC we recognise the importance of not just pushing the brand, but the importance of understanding who the target market is. We call it business-changing-creativity. So this year when one of our 'wins' at the VMA Awards 2016 was 'The Vet's Favourite Advertisement Award', we felt, and still do feel, it's a job well done.
Our congratulations to all winners and to everyone who took part in what was a true highlight and celebration of our industry.